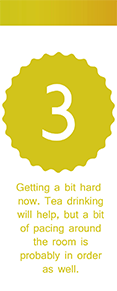 A good way to start the week?
What are the missing four terms in this sequence
AAAAAAA, DDDDDDA, NMEDHFD, SNSERIR, UOTESRS, ?, ?, ?, ?
(The answer is not ?, ?, ?, ?)
I am not sure what to tell you about this one, but maybe you need to think laterally. It is another one where the number of items in the list might be suggestive.